Is a Hyper-Connected Work Environment Causing Bad Management Habits?
---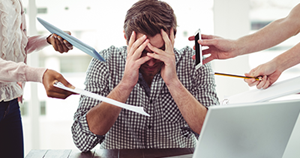 In today's extremely busy, always-on work environment, communication is often driven by what needs to get done right now. It is fragmented, reactive, and more about immediate response than it is about long-term development or relationship building.
"Rarely do we hear each other's voices these days," says Pat Zigarmi, leadership expert and founding associate with The Ken Blanchard Companies. "Communication becomes a series of one-way texts. It's kind of like a ping-pong ball going back and forth."
In an earlier edition of the The Ken Blanchard Companies' Ignite newsletter Zigarmi questions whether this ping-pong approach encourages bad communication habits among managers—especially when it comes to providing direction and support.
"A basic principle of our approach to leadership is that a portion of managerial conversations should be focused on other people's needs, not just the manager's needs. But today's communication is often all about whatever agenda the manager is pushing."
"In our SLII® training program, we teach that leadership is most effective when it is done side by side. That doesn't happen with one-way communication such as 'Answer my questions right away!' or 'Get me what I need now!'
"In rapid-fire, back-and-forth communication, there is no opportunity for the leader to ask 'How is this sitting with you?' 'How does this stack up with your other priorities?' or 'What else do you need to know?'"
Zigarmi explains that if productive conversations aren't happening between manager and direct report, competence is not going to be built, motivation is not going to be addressed, and confidence is not going to be developed.
"Real conversation is give-and-take," reminds Zigarmi.
In today's busy work environment, we must maintain a balance between the quick transfer of information the leader needs and meaningful conversations that focus on the needs of others. Communication at its best helps team members build their competence, motivation, and confidence on the goals and tasks they need to accomplish.
About the author:
David Witt
David Witt is a Program Director for The Ken Blanchard Companies. He is an award-winning researcher and host of the companies' monthly webinar series. David has also authored or coauthored articles in Fast Company, Human Resource Development Review, Chief Learning Officer and US Business Review.
First published on The Ken Blanchard Companies Blog
13 April 2017