Quit Focusing on Accountability and Follow These 5 Steps Instead
---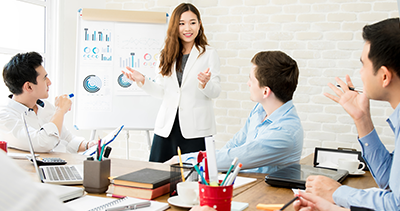 In his work consulting with business leaders at top organisations around the world, best-selling author Ken Blanchard explains that for best results, leaders need to combine a focus on people with a simultaneous focus on results.  It's this one-two combination that delivers the greatest impact.
Managers need to have a shared responsibility with direct reports for achieving goals, explains Blanchard.  As an example, Blanchard points to the philosophy of Garry Ridge, CEO of WD-40 Company and Blanchard's coauthor on the book Helping People Win at Work.  At WD-40, if a manager is considering an unfavorable review for a direct report, the first question asked of the manager is: "What have you done to help that person succeed?"
One of the benefits of this mutual accountability approach is that it gives leaders permission to step in when tough love is called for—for example, when performance or behaviour is off-track.
Colleen Barrett, former president of Southwest Airlines, shares her organisation's philosophy about joint accountability: "We are very clear in telling our people what our expectations are. We hold them and ourselves accountable for meeting those expectations every day. Sometimes this means having a real heart-to-heart with someone and reminding them what our values are. If we have been intentional and firm in explaining what our expectations are, that gives us the opportunity to point to specific examples where the person hasn't exhibited the required behaviours."
Blanchard believes that this approach to management requires a special kind of leader—a person who sees leadership as an opportunity to serve instead of being served.
"We have all seen the negative consequences of self-centered leadership," says Blanchard.  "Today we need a new leadership model—one that is focused on accomplishing the goals of the organisation as a whole, with an equal emphasis on people and results. The best leaders identify the hidden strengths in people and organisations and lead them to a place they couldn't get to on their own.  In this way, they truly serve.  And when the leader's work is done—to paraphrase Chinese philosopher Lao Tzu—the people will say, 'We did it ourselves.'
"The most effective leaders realise that leadership is not about them—they are only as good as the people they lead. It's what servant leadership is all about. Once a vision has been set for the organisation, servant leaders move to the bottom of the hierarchy, acting as cheerleaders, supporters, and encouragers for the people who report to them.
"The best organisations don't see relationships and results as an either/or proposition," says Blanchard. "They know if they focus on both people and profits, success will follow."
About the author:
David Witt is a Program Director for The Ken Blanchard Companies.
He is an award-winning researcher and host of the companies' monthly webinar series.
David has also authored or coauthored articles in Fast Company, Human Resource Development Review,
Chief Learning Officer and US Business Review
First published on Blanchard LeaderChat
23 August 2018