Resilience at Work—Focus on Thriving, Not Just Surviving
---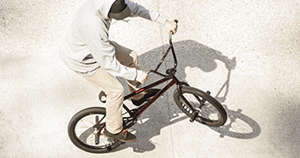 When we talk about resilience, many people conjure up a mental image of a lighthouse bracing itself against crashing waves and sending out its beacon of light across a stormy sea—or maybe a windswept, twisted tree clinging to life in a dry, forbidding environment.
"That might be one way to look at resilience, but it's not very realistic if you're talking about resilience in terms of today's business environment," says David Witt, a senior researcher with The Ken Blanchard Companies.
"Those images might look great on a poster in an office, but they're not an accurate portrayal of a thriving organisation. It's too bleak a picture," says Witt. "Resilience at work is about thriving—not just surviving."
Witt admits work often can feel like a grind we just need to get through, or worse—an overwhelming flood of endless requests, complaints, and mind-numbing tasks that need to be done. It doesn't have to be that way, he says.
"With a little bit of attention to how we perceive our work in our mind, even tedious and routine tasks can be reframed into something meaningful and purposeful."
Witt points to the philosophies of some of his favorite authors, including bestselling business author Simon Sinek.
"Sinek discusses the concept of work resilience in his book Start with Why: How Great Leaders Inspire Everyone to Take Action. He says it's all about finding the purpose in your work. Leaders can help people find meaning by connecting the dots for them."
Ken Blanchard, coauthor of The One Minute Manager® and more than 65 other books on leadership and management, teaches a similar concept. In the bestselling parable Gung Ho! Turn On the People in Any Organisation, Blanchard and coauthor Sheldon Bowles identify Worthwhile work as the first of three keys to a workplace culture that brings out the best in people. The other two elements are Being in control of achieving the goal and Cheering each other on. Witt agrees.
"In our research over the past twelve years looking at factors that build or detract from employee work passion, we have found that Meaningful Work, Autonomy, Connectedness with Your Leader, and Connectedness with Colleagues are all important components of a motivating work environment. These four factors, together with eight others, are what drive long-term commitment to an organisation, create high levels of performance, and foster workers that are willing to go above and beyond when necessary. These behaviours contribute to the kind of workplace resilience that organisations should be shooting for—it's all about thriving at work."
To make a point, Witt shares a story about the early days of San Diego, the city he calls home.
"Most people today know San Diego as a lush, beautiful city blessed with sunny beaches, palm trees, and a tropical landscape. That's not the way it looked when the city was first founded. It was mostly a barren landscape due to the small amount of rainfall each year (less than 10 inches) and the hot, dry summers where almost no rain fell from May until November.
"It was a landscape conducive to wildfires every year. When people settled here in the early 1800s, they found dry, dusty chaparral with scrubby bushes and gnarled, windswept trees. Nothing grew much over 20 feet because the lack of water and the fires kept everything burned down.
"A few decades went by and the city began to grow and develop. A young woman named Kate Sessions, who had trained as a botanist at what is now UC Berkeley, had an idea that San Diego could be a more beautiful place if trees were planted and given a little love and care and attention.
"In exchange for one hundred acres of land just north of the city that she could use for a plant nursery, Sessions agreed to plant 100 trees every year in and around the growing city."
Kate Sessions' original nursery became Balboa Park, a crown jewel of San Diego and home to the world famous San Diego Zoo.
"A lot of people know about all the wonderfully diverse species of animals at the zoo, but they don't realise that the zoo's collection of plants and trees are unrivaled—and even more diverse than the animal population."
One specimen of tree that Witt describes now lives just outside the zoo's entrance near the children's merry-go-round. It was planted by Sessions in 1914 for the Pan American Exposition that San Diego was hosting that year.
"It's a ficus tree—a tree many of us have had in our homes or seen at nurseries or garden centres. They are typically purchased when they are between one and four feet tall. Although they are common in the US now, they were quite exotic in Sessions' day, coming all the way from Australia and Asia.
"Kate Sessions planted one ficus tree just outside the Exposition boundaries and tended to it over the next several years. It grew and flourished. Today that tree is over 100 years old and 100 feet tall, with a crowning canopy that's about 150 feet in diameter. It's a wonderful, strong, and resilient tree.
"That's the model of resilience we need to have in the workplace today," says Witt. "We need to see resilience as providing the conditions that let people and organisations thrive and flourish. Leaders must help people get through tough times, help them find the meaning in their work, cheer them on, and provide them with growth opportunities until they learn how to manage on their own."
Witt encourages leaders to start building that type of organisation today.
"One of my favourite sayings is this Chinese proverb: 'The best time to plant a tree is 20 years ago—the second best time is today!' So get started today building a resilient environment in your organisation by teaching leaders how to bring out the best in people. You never know how big an idea will grow once it gets started."
About the author:
David Witt
David Witt is a Consultant with The Ken Blanchard Companies.
First published on Blanchard LeaderChat
6 May 2019